Kitsap County and Marina Square: Close to the Waterfront. Open to a vibrant quality of life.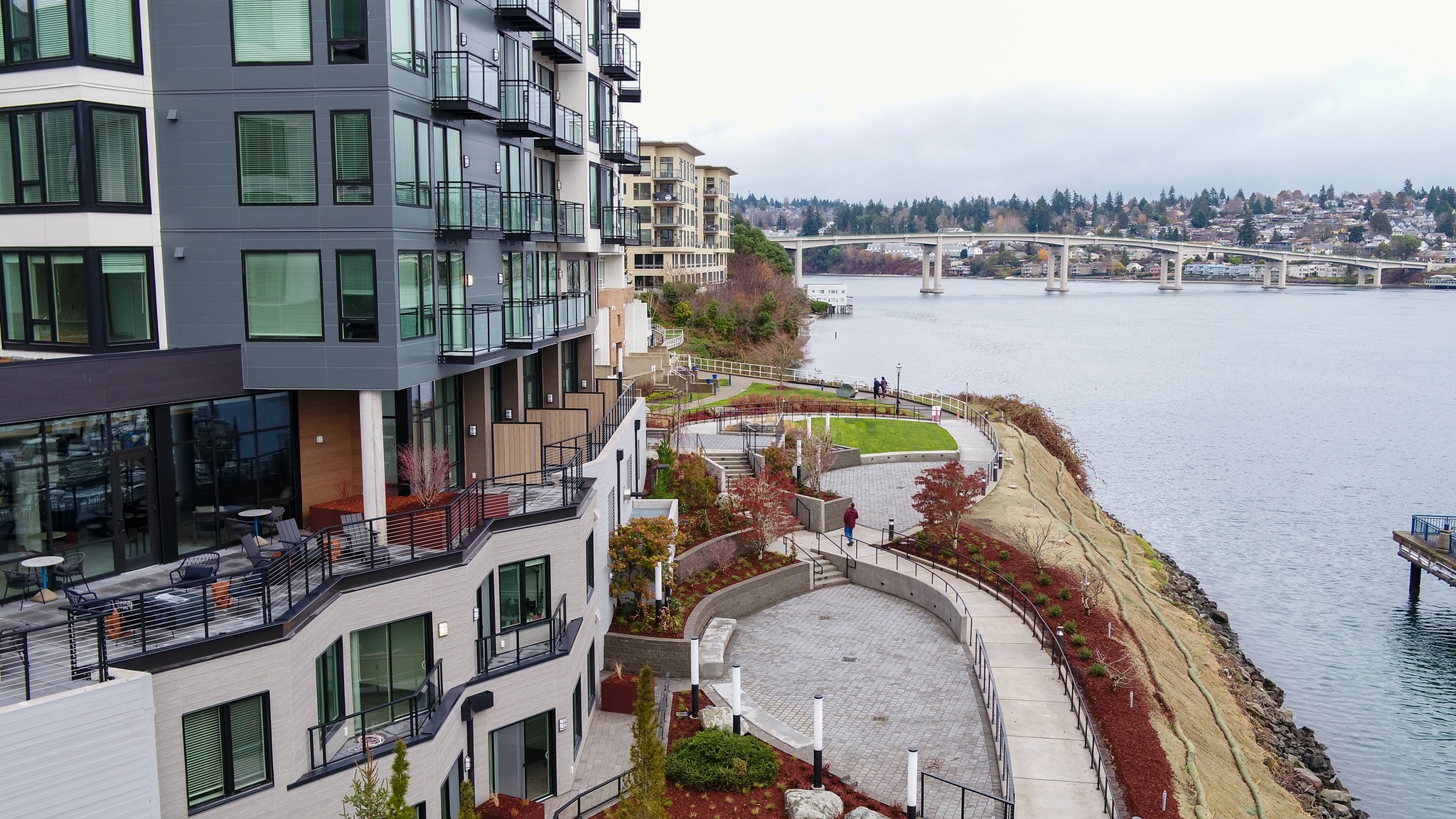 One of the most significant advantages of living in a waterfront community is the lack of urban congestion and noise pollution. Living on the water provides a sense of deep calm and serenity.
Anchored in the heart of Bremerton's vibrant waterfront, apartment buildings in the Marina Square Collection boast well-appointed apartment homes, pristine Puget Sound views, and unparalleled proximity to modern amenities and outdoor adventure; each apartment is thoughtfully catered to unique lifestyles. Friends and neighbors can gather at the central community plaza set between two residential towers: Shearwater and Fleethouse.
Wes Larson is the principal of Sound West Group, a leading developer of multi-family, single-family, and commercial real estate in the Western Puget Sound region of the Pacific Northwest. As Theresa Mangrum, Communication & Events Manager, Kitsap Economic Development Alliance puts it, "The story around the Marina Square project and the impacts of the Covid pandemic are all about perseverance and how Wes and his team initiated a successful pivot during the worst of times. The project was initially planned as a hotel and the pandemic's impact on the travel and hospitality industries was catastrophic. That is why Larson and his group reimagined the project and pivoted to apartment rentals and long-term stay units."
Wes Larson spoke more about the project. "Marina Square is an exciting new waterfront project under construction in downtown Bremerton. Plans include two 6-story towers above 3 levels of subterranean parking with 363 stalls. The southern tower will house approximately 145 mixed-use suites, studios, and one and two-bedroom units with amenities. Forty-five units will be set aside as "extended stay" suites for temporary government contractors."
Marina Square: A transit-oriented development
Larson stated that Marina Square is at a location that is transit-friendly." The project is within 100 yards of the fast ferry and right next to the Washington state ferry terminal. So when it comes to public transportation, it is very accessible to the waterfront." Larson said that the Marina Square project was much-needed housing for the community, and has been designed in accordance with the Growth Management Act, and promotes development in an urban area, with access to public transportation and other infrastructure services."
As for the overall benefits that the project will bring to the town, Larson says, " This is an urban infill project, and will contribute to the revitalization of downtown Bremerton, providing much-needed housing in a transit hub area, with services, restaurants, walkability, etc. We are in a state with the second lowest vacancy rate - evidently, there is an acute housing shortage, particularly for single families. Marina Square will address this problem."
Kitsap EDA: A valuable resource for the project
Kitsap EDA, according to Larson has been a valuable partner through the journey. " I met an executive of a large healthcare company who needed to establish a workforce in the community but needed housing for his employees. That was when Kitsap EDA stepped in - we sat at the same table, and talked our way through things. With Kitsap EDA you have both sides of the coin, the private and the public sector. This helped to move things forward. When we express our needs or concerns as a private developer, we have an immediate audience, there are mayors, and county commissioners at the same table. It helps to speed up decision-making. Yes, of course, Kitsap EDA has been a tremendous resource," Larson says.
Marina Square: Revitalizing the downtown core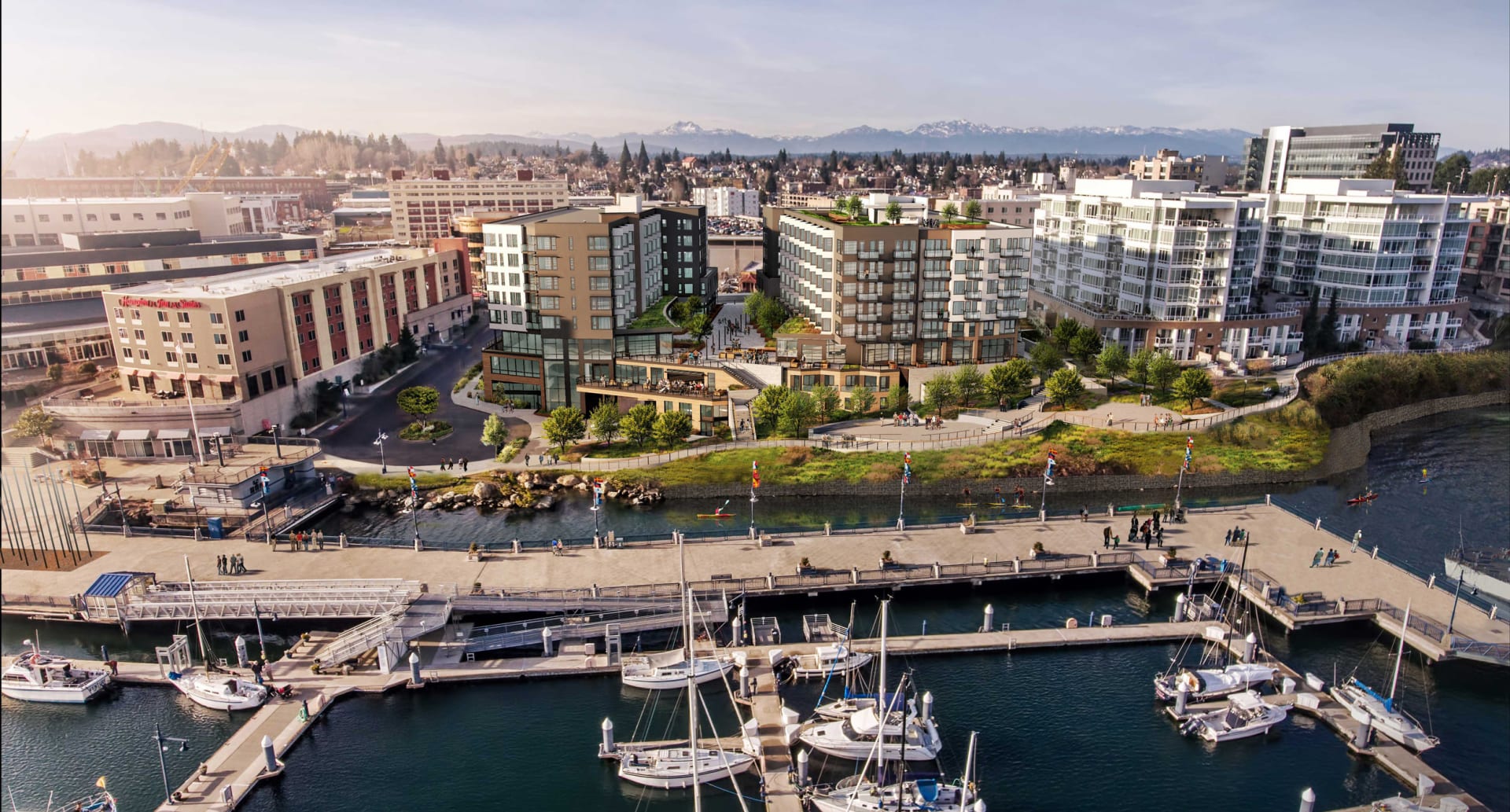 Victoria Luke, Marketing Director, Sound West Group, said, "One of the main things that Marina Square is doing is bringing more people to the area. The downtown core of Bremerton has been kind of depressed and we're working on revitalizing that. We have been working with the members of the Downtown Business Association, and they are overjoyed to have those extra shoppers to enhance their business growth. The second thing is, the downtown location promotes a walkable lifestyle and public transit-oriented development. As the sixth largest ferry-commuting town in the nation, we hope to ramp up the local demand, thanks to Marina Square being located so close to the ferry."
Kitsap EDA aims to facilitate healthy economic growth and investments that support livable, resilient communities, fueled by innovation and Kitsap's diverse people and businesses. Find out more about how your local business can grow and prosper at kitsapeda.org.