Life + Work
Located in Central Puget Sound, Kitsap offers the perfect combination of small town community and easy access to Seattle's urban culture and commerce – without the gridlock and high prices!
America's Most Innovative Cities
24/7 Wall Street ranked Bremerton-Silverdale MSA #2 in America's Most Innovative Cities
Remote workers find a home: Many of us have learned we can work from anywhere and former commuters are choosing a different lifestyle. They are getting out of the city, off the boat and staying here… working here…living here. State-of-the-art coworking spaces, and the nation's largest public fiber-optic backbone make remote work a reality
Kitsap County ranks high in essential economic development indicators: educational attainment and skilled workforce; development of intellectual property; per capita economic output; and, median household incomes.
Kitsap is a recognized leader in several key regional economic sectors: maritime; military; manufacturing; health care; business services; technology; and, tourism. And, Kitsap is home to the most-dense concentration of engineering talent in the Greater Seattle region.*
Multi-mode access to markets – Close proximity to rail, deep water ports, airfields, and interstate highway system in uncongested traffic areas.
Workforce: A skilled labor pool generated by the Navy, government contractors and commuters. Naval base Kitsap employs over 26,000 military and civilian personnel, in addition to defense contractor operations. This sector creates a substantial talent pool of retired and separated defense related skillsets.
Naval Base Kitsap is a Leader in State's and Nation's Defense Industry and contributes $4.0 billion to regional economy**. Kitsap is home to over one third of the region's defense workforce of which 70%+ are civilian employees.  With more than 33,800 daily workers, including  16,200 military personnel, 17,600 civilian personnel and 7,500 defense contractors.
Top ranked public schools and higher ed are preparing students for STEM jobs (Kitsap's public high schools offer aviation classrooms, a drone program, and robotics, and Bremerton School District has a magnet STEM school. Olympic College (OC) with campuses in Bremerton and Poulsbo, offers numerous high demand programs including aerospace and advanced manufacturing, IT, business, healthcare, and industrial trades. Additionally, OC offers baccalaureate degrees in nursing, engineering (with Washington State University), and business (with Western Washington University).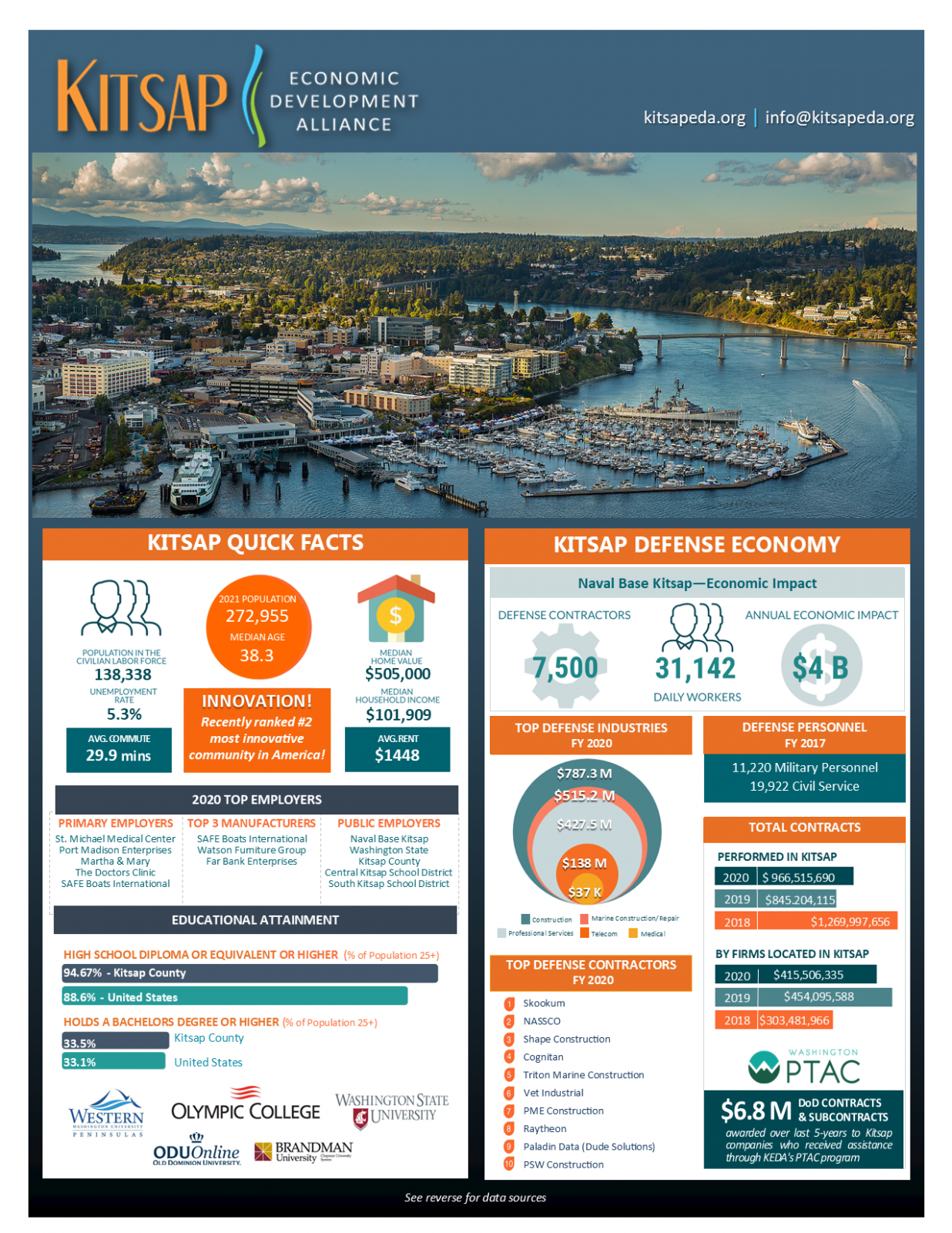 Kitsap County is about Smart Growth. A highly desirable part of one of the nation's fastest growing regions— Seattle/Puget Sound—Kitsap continues to grow in business, population, and opportunities. Maintaining our balanced lifestyle is the goal of smart growth and the strategic vision of the Kitsap Economic Development Alliance, KEDA.
New opportunities, new challenges Creating opportunity while maintaining our natural environment and balanced lifestyle throughout these shifting dynamics informs the strategic vision of the Kitsap Economic Development Alliance, KEDA.

*https://www.bls.gov/oes/current/oes170000.htm
**FY 2017 View Economic Impact Fact Sheets
Kitsap presents an exceptional value in economic opportunity – in life – in education – in work – in creativity –in re-creation; and, in a bright, healthy, prosperous and sustainable future for generations to come. Smart growth aimed at maintaining our balanced lifestyle is guided by the strategic vision of the Kitsap Economic Development Alliance, KEDA.
Joe Morrison
Executive Director
morrison@kitsapeda.org / 360.377.9599