Federal money to help pay for breakwater, trails, other projects in Washington state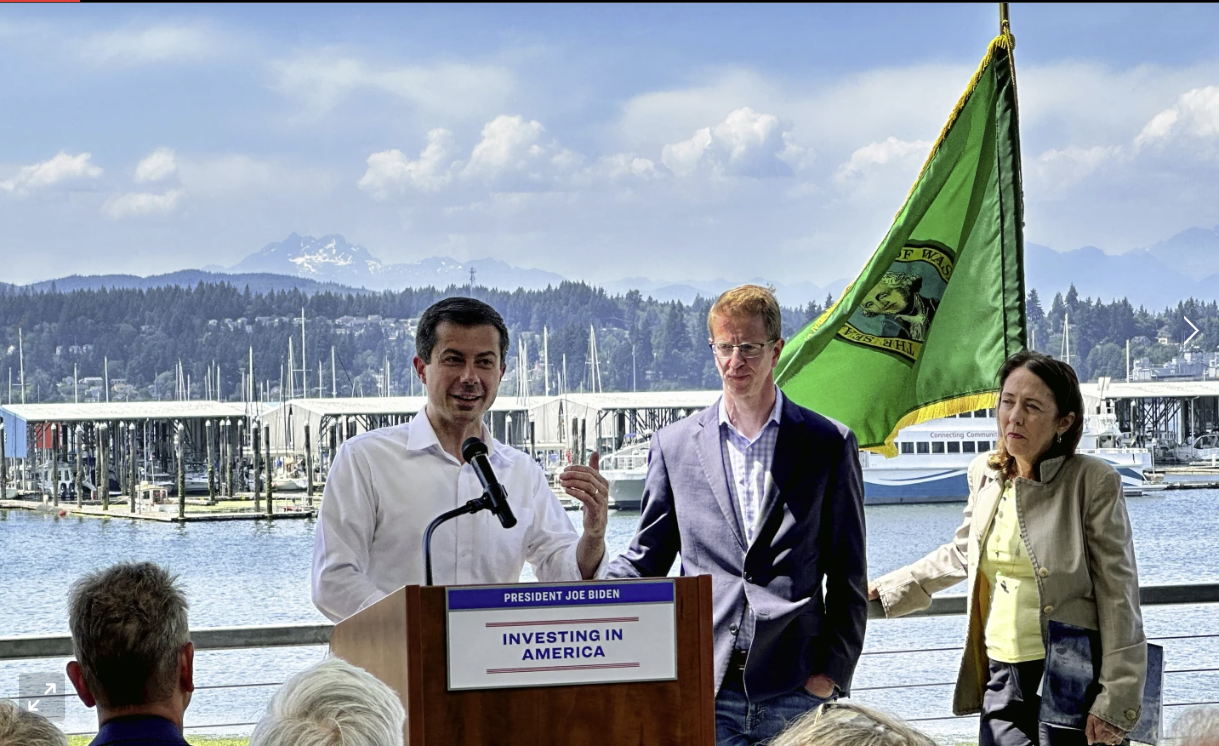 12 Jul 2023
Infrastructure, Port Orchard, Marina
PORT ORCHARD, Wash. (AP) — The federal government is chipping in about $130 million to support several Washington state projects that range from replacing a storm-damaged breakwater at a Port Orchard marina to helping a Native American tribe move from ancestral villages threatened by rising seas on the Pacific Coast.
The money comes from a federal grant fund expanded in President Joe Biden's $1 trillion infrastructure plan. U.S. Secretary of Transportation Pete Buttigieg, Democratic U.S. Sens. Patty Murray and Maria Cantwell, and other officials visited the Port Orchard marina Thursday to discuss the spending.
About $25 million will pay for a nearly four-mile loop road to help the Shoalwater Bay Indian Tribe on the southwest Washington coast relocate upland to allow future development and mitigate the effects of sea-level rise.
Another $17 million will be used to construct recreational trails around western Washington, connecting Bainbridge Island on Puget Sound to the Pacific Coast at La Push.
About $9.4 million will support the replacement of the Port Orchard Marina's breakwater, which is about 20 years past its serviceable lifespan.
Built in the 1970s, the breakwater protects marina facilities, tribal fishing boats, daily ferry transit, emergency response vessels and the only marine fuel facility within 16 miles.
But storm damage has left it closed to the public, and despite repairs and maintenance, it faces increased threats from rising seas and more intense weather because of climate change. The federal grant will cover more than half of its $15.7 million replacement cost.
"We're one good storm away from losing that breakwater," said Jim Rothlin, chief executive officer at the Port of Bremerton, which oversees the marina.
Buttigieg toured the Mukilteo Ferry Terminal earlier Thursday with Murray and Gov. Jay Inslee. The state has been working to modernize and electrify Washington's ferry system, which has seen its share of woes in recent years.
Since 2021, staffing shortages, boat repairs and COVID-19 outbreaks have led to reduced service on Seattle routes and cancellations. A ferry crash reduced the Fauntleroy-Vashon Island-Southworth route to one boat.
Facing questions from reporters about the state of nation's largest ferry system, Inslee said Washington is working on getting more boats built — three jumbo class ferries that will be converted to electric and five new boats approved for financing by state lawmakers.
"The boats are on the way," Inslee said. "We have contracts outstanding. In the next few weeks, we will have proposals we hope to actually build these boats, and we hope to be soon laying those keels."