Army STTR Virtual Industry Day Announcement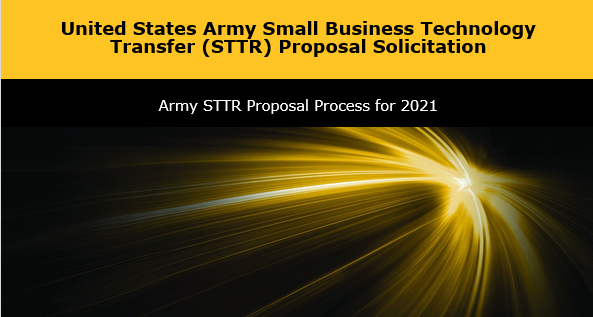 Partnered with Army Research Laboratory Partnership Intermediary, the Virginia Tech Applied Research Corporation (VT-ARC), Army STTR has released the official agenda for the Virtual Industry Day, September 1-2, 2021 from 1:00pm – 5:00pm both days. Register Now!
Industry Day will feature sessions from topic authors for the 21.C Solicitation to answer technical questions about the topics, chances to learn more and ask questions about the STTR proposal and contracting process, networking opportunities and more! We look forward to seeing you at this compelling event! In addition, the official 21.C Pre-Release Solicitation has been posted! Please visit the DoD SBIR/STTR website to view the official Broad Agency Announcement, and for the topic authors' contact information to ask technical questions. You can also visit ArmySTTR.com for the full list of 21.C Solicitation Topics.
Upcoming Events
Sign up for our mailing list to keep up to date on all the most recent information. Visit Army.STTR.com and scroll to the bottom of the page to sign up. You can also visit our calendar of all upcoming events. The website will be updated often, so make sure to bookmark ArmySTTR.com and visit frequently. You can also keep up to date by following the Army SBIR/STTR Program and the Army Research Laboratory's Partnership