Alliance Northwest - Early Bird Attendee Discount in Effect until Jan 15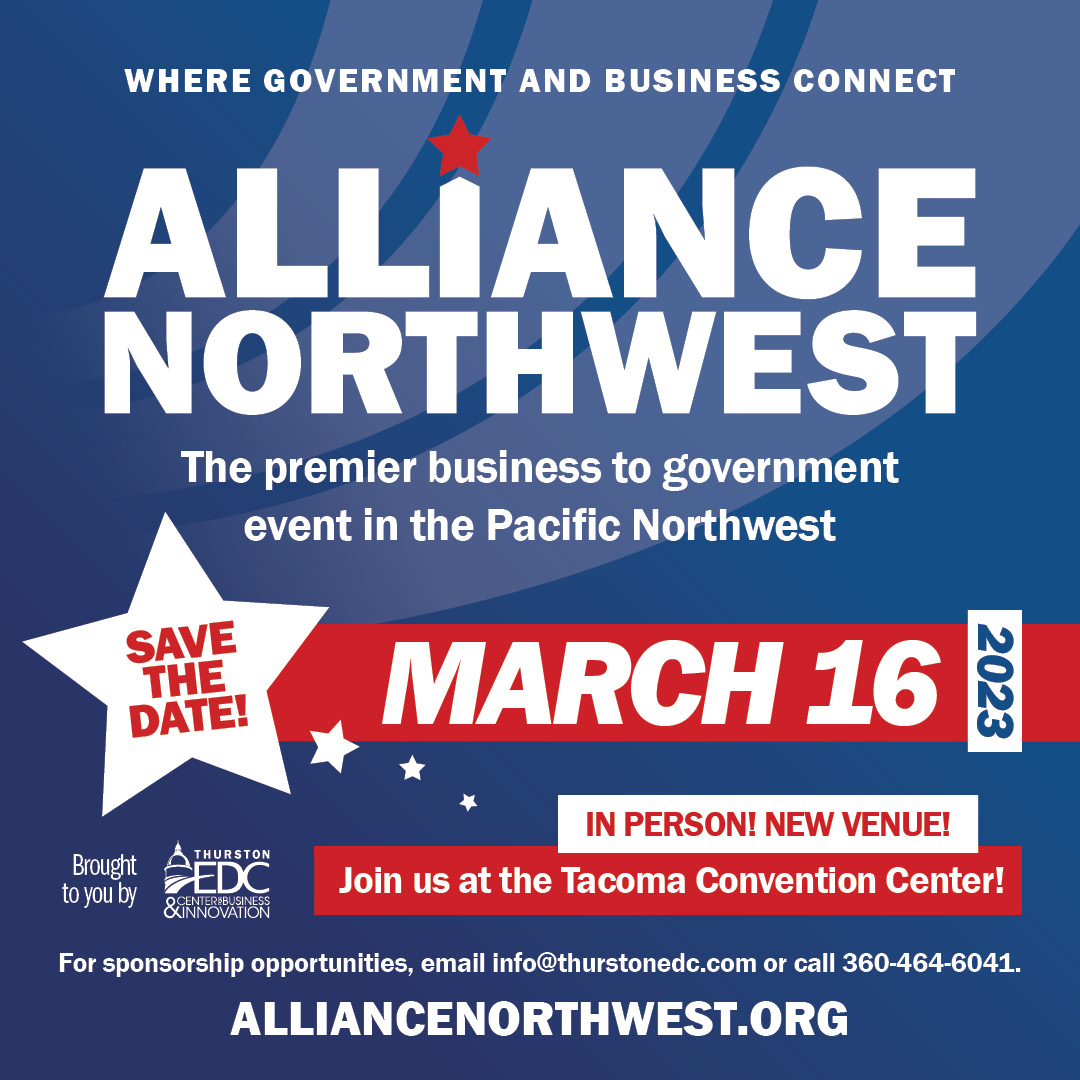 15 Dec 2022
Biz Opps, Government Contracting, PTAC, Small business
THURSDAY, MARCH 16, 2023
In-person event held at the Greater Tacoma Convention Center supported by SWAPCARD virtual Platform

For over 30 years, Alliance Northwest has been one of the largest business-to-government events in the Northwest, featuring subject matter experts and opportunities to connect buyers and sellers in the public marketplace. The event is back IN PERSON this year and moving to the Greater Tacoma Convention Center! We are also keeping a virtual component to give even more resources and access to enhance the business-to-government interaction.
EARLY BIRD ATTENDEE DISCOUNT IS IN EFFECT UNTIL 1/15/2023
Select the header above or enter promo code 2023EarlyBird during registration to apply the $60 discount to attendee registration.
WHAT IS ALLIANCE NORTHWEST?
Alliance Northwest is the largest business-to-government conference in the Pacific Northwest. This event features high-quality workshops and matchmaking sessions between small businesses, government agencies, and prime contractors. The event is in its 37th year. Hosted by Thurston Economic Development Council, home of Washington Procurement Technical Assistance Center (PTAC), Alliance Northwest has a strong history of federal agency support. It is widely known as the place where business and government learn and make connections with small and disadvantaged businesses.
WHO SHOULD ATTEND?
Businesses interested in selling to the government and prime contractors.
Prime contractors and government buyers seeking to do outreach to small and diverse businesses.
Alliance Northwest is the premier government contracting event in the region, bringing together prime contractors, government agencies, and small businesses for a full day of relationship building. The 2023 event will start with pre-event activities and allow for extended networking beyond March 16th.
For those firms who are experienced government contractors, Alliance Northwest is the place to strengthen established relationships, explore other government contracting opportunities and teaming opportunities, and hear the marketplace's latest news and trends from the expert workshop speakers.
If you're new to government contracting, you'll have an opportunity to meet government agency representatives, explore subcontracting opportunities with prime contractors and attend high-quality training workshops. If you're unsure if the government marketplace is a good fit for your business and if you should attend this conference, reach out to the Procurement Technical Assistance Center who can provide your business with no-cost advising services.