23-Meter Autonomous Hydrographic Survey Vessel Unveiled in US Market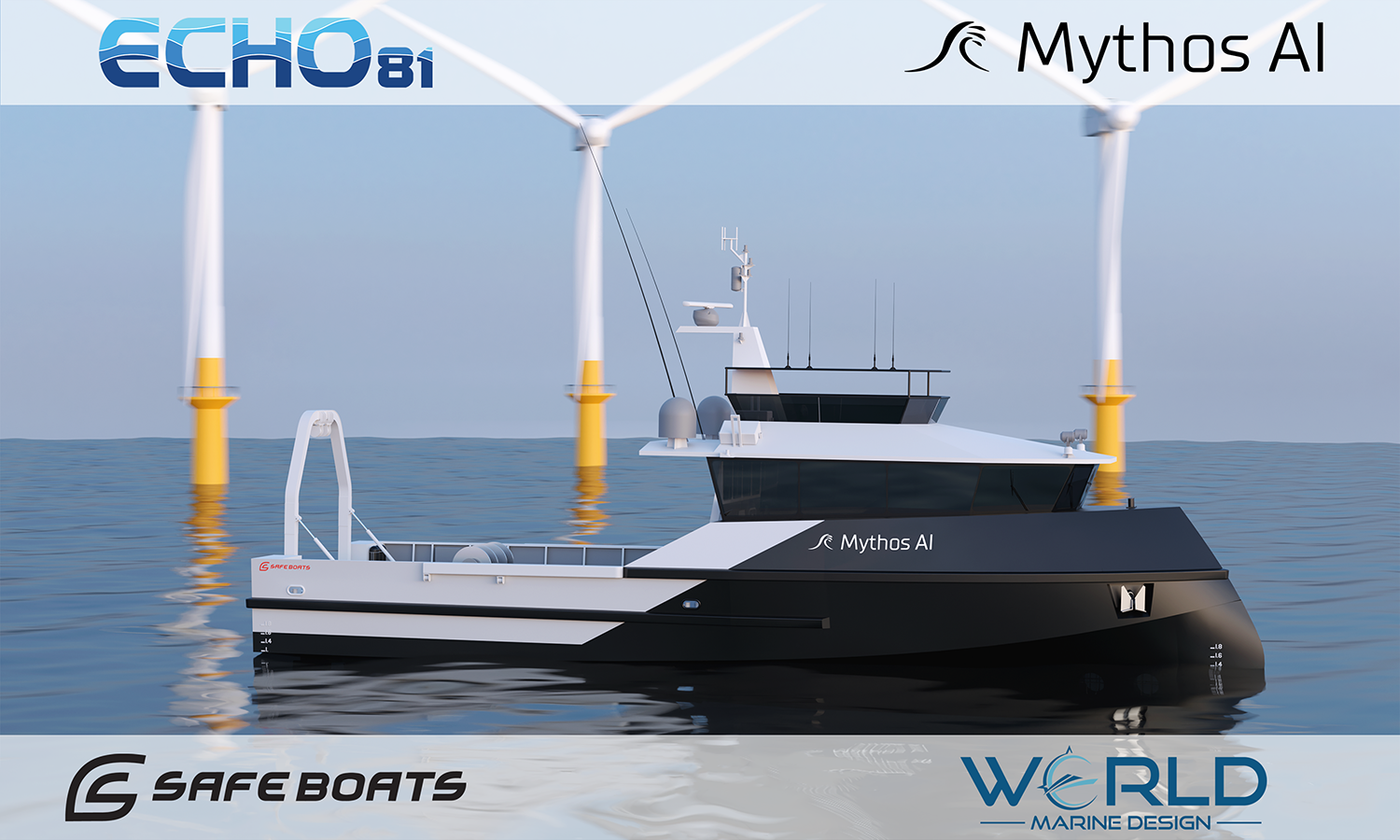 5 Apr 2023
Maritime, Advanced Manufacturing, Autonomous Vehicle Cluster
Bremerton based SAFE Boats International recently announced the introduction of a revolutionary, autonomous hydrographic survey vessel: Merlin. This innovative, 23-meter semi-displacement monohull design was developed in collaboration with Mythos AI, Echo81, and World Marine Design.
SAFE Boats International has exclusive rights to build the design at their Tacoma, Washington large-craft production facility. Merlin will be a Jones Act-compliant all-aluminum hull powered by a twin Volvo Penta D13 Hybrid-ready System with IPS. For a zero-emission power package, the Merlin can accommodate forward-thinking hydrogen technology supplied by Zero Emission Industries (ZEI). Both power options offer lower emissions and extended range to perform site assessment surveys at offshore wind energy areas. Three deck levels offer crew and technicians sleeping berths, full bathroom, galley, survey workstation, and a marine mammal observer post on the flybridge. The generous aft working deck is equipped with an A-Frame, dual winches, moonpool, and outboard seismic booms. The hull was specifically designed to incorporate the industry's most advanced sonars with minimal interference while collecting data at a highly efficient pace. A Seakeeper gyro provides active ride control, greatly enhancing stability and crew comfort. A shallow draft of 1.6m allows the Merlin to perform various survey missions and make port in small or large harbors across the U.S.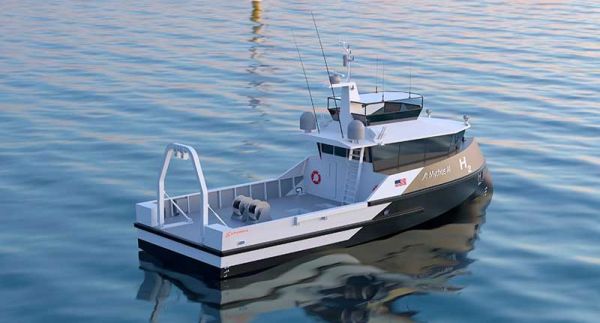 Hydrographic systems provider, Echo81, is nationally recognized as a leading expert in the hydrographic survey industry. With their contribution, Merlin is the industry's first geophysical vessel that can be acquired directly from the builder (SAFE Boats International) with a fully integrated geophysical sensor suite configured specifically for U.S. Offshore Wind. Echo81 will provide a single source for sensor service and support, drastically reducing the cost burdens associated with owning and operating survey vessels.
Mythos AI, a cutting-edge maritime autonomy provider, is responsible for optimizing Merlin vessels for autonomous survey operations. Mythos AI's advanced driver assist systems (ADAS) are designed specifically to automate geophysical workflows so that skilled hydrographers and crew are not required to physically be onboard the vessel. As Mythos AI's technology advances, it will be capable of providing a push-button, long endurance, dock-to-dock, self-driving and self-surveying solution for offshore wind.
ABOUT ECHO81:
ECHO81 is a US-based distributor for hydrographic survey equipment and marine instrumentation offering sales, rentals, installations, and training. The company has partnered with several leading manufacturers throughout the industry to provide a comprehensive portfolio serving the offshore windfarm, oil and gas, marine construction, port and harbor security, and research markets.
ABOUT MYTHOS AI:
Mythos AI is a cutting-edge maritime autonomy technology provider focused on streamlining hydrographic survey operations. For more information on Mythos AI visit https://mythos-ai.com/
ABOUT WORLD MARINE DESIGN:
World Marine Design is a subsidiary of Walker Marine Design. Walker Marine Design (WMD) is synonymous with developing innovative hull forms that have been built in Europe, USA, and the Far East. The WMD team supports clients by defining optimized hull forms, configurations, and specifications for any operational requirement. The company works in the offshore wind, defence, search and rescue and fire boat sectors with a proven and solid track record. WMD offers a turnkey solution from concept, structural and detail design, through to build support, trials, training, and familiarization.
ABOUT SAFE BOATS INTERNATIONAL:
SAFE Boats International is a 100% employee-owned company that designs and builds highly reliable and durable vessels for military, law enforcement, and fire professionals. The Company has delivered more than 2,300 boats to customers in more than 60 countries. The quality of SAFE Boats' engineering, design, and manufacturing has delivered millions of hours of service on the water with no hull failures. SAFE Boats also provides worldwide warranty, service, and parts support, as well as access to a comprehensive in-house support network. SAFE Boats has locations in Bremerton and Tacoma Washington.