SAME Small Business Symposium returns to Bremerton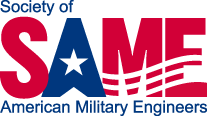 14 Mar 2022
Government Contracting, PTAC, Engineering, Construction, Bremerton
Society of American Military Engineers - Small Business Symposium

Kitsap Conference Center
Event Date/Time: April 18-19
For more details or to register, visit: https://www.eventbrite.com/e/same-small-business-symposium-tickets-185072315277
Event Description:
It's BACK! Join us for the Small Business Symposium. Small and large businesses from across the PNW, along with our government partners will be in one place for a packed day of matchmaking, educational sessions, and networking.
The event starts with an Ice Breaker the evening of April 18th. Build new relationships with your fellow attendees and reconnect with friends in a relaxed environment.
The main event is April 19th. The SBS can positively impact you and your business for generations to come. Gain knowledge and build lasting relationships. You will not want to miss it! Register right away and secure your sponsorship today - tickets will sell out quickly!
Tickets:
Ice Breaker: $25-$50
Symposium Main Day: $40-$160
Sponsorships:
Justice Level Booth: $500
Freedom Level Booth: $750
Liberty Level Booth: $950
Ice Breaker Sponsor: $1,200
Event Sponsor: $3,000